Cyber Factory is an Australian Business involved in the development of a wide range of computer technology related projects.These include:

Internet projects: Digital asset creation, hosting, webdesign, domain name registration, search engine position optimisation.

Other projects: Power point presentations, Digital photography, computer installation and set-up for specialised projects, and any other project that requires a computer technologist.


Please contact us for any information or visit some of the sites designed, managed and hosted by us.
Customers demand fast and professional results, and our customer loyalty proves our commitment to delivery.
Cyberama Displays - patented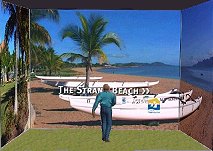 Cyberama Immersive Displays - are the ultimate way to present your product or destination. A Trade Show portable or permanent feature, it is better than going there!


The Cyberama Display is a virtual reality display, in which you will feel part of the movie projected on the 3 screens around you. You truly are immersed in the picture. Don't just grab their attention, virtually take them there!
The Cyberama display comes in varied sizes, from a 3 screen monitor set up, to an immersive display of 30 sq.m screens (total screen size of 90 sq.m.
Download the brochure (.pdf 310kb)
Contact us to purchase or rent an immersive display.


Townsville State of Environment
Community access to technology, policies and programs to manage and rehabilitate the environment





DancingWithDolphins®
Sailing & Diving the Great Barrier Reef





We support Sea Shepherd